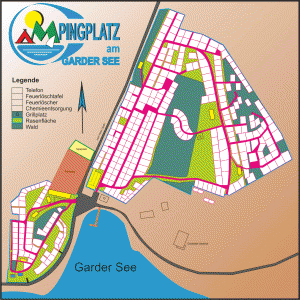 Our camping ground can be found in the wonderful Mecklenburger Lake district and is situated centrally to Schwerin, Waren and Rostock. You can get to us using the A20, A19 and A24 motorway along with many national roads.
The area is renowned for its beautiful landscape, wildlife and many opportunities to relax and recharge to your batteries. You can find our Camp grounds approx. 3 km from Lohmen and can be reached via a separate street. We have over 300 parking spaces for Caravans, Trailers or Camper Vans. We have recently completed renovations to our washroom/Toilet facilities which are now partially heated, have warm water and meet the newest standards. We have a small supermarket in the main building where you can buy your daily groceries and fresh breads for the best possible start to your day.
The holiday homes are modern and inviting and are available to rent. We would recommend that you reserve in advance during the main Season to ensure availability. You will find information on day trips and sightseeing destinations on our website or at our reception area at our grounds.